The Valve oc wiki no-longer needs map images in the above form as there's just too many maps to have images for. Instead I've added a list of maps with links to OC's official wiki.
The media gallery on that page can now be used for show casing features...(There are image 12 slots to fill/replace).
I would suggest:
* Pictures of campaign maps (hl2,lc,ep1,ep2,hls)
* Picture of a load of Player Models in game; Valve 'non copyright' (the wiki says you can use anything valve copyrighted) hence any player models we have from Valve games is fair game (the dev team could all meet up and do a line up as other hl2 characters, css, tf2 w/e).
* Picture from a cs:s mapadd (showing a cs:s weapon in-use)
* Picture of custom weapons?
* Picture of someone using the merchant (shows hud)
* Some one buying stuff using merchant relay (prehaps a nice shot from harvest)
* Team play picture?
* Lives picture?
* weapons picture
* custom weapons picture
*custom hud colors (show a weapon/s, ingame chat, flash light and anything else that has custom colour scoreboard maybe?)
Basically 12 pictures so cram as much as possible into each, make'em count.
Also been thinking have you guys considered including oc_modify generator into the mod's installer (I think it should come with the mod in the SDK folder) are you allowed to include applications like that? , then you could have a screenshot of someone operating that, or just have a screenshot anyway.
And finally I've added 2 spaces to the wiki where you can display two wallpapers (I added the old grunt ones)
hint, hint: LT_C makes us a couple of kickarse wall papers to replace them.
Basically here you upload two thumbnail images and on there file pages add links of-site to the actual full size images.
Here's how the wiki look at the moment:
http://developer.valvesoftware.com/wiki ... n_Conflict
So finally, what I'm trying to say is I'll be trying for a different type of screenshot from what I started to post though next time I'm bored I'll continue with those too.
Also some other mods show of their awards on the wiki page, we dont really have any awards but we do have these: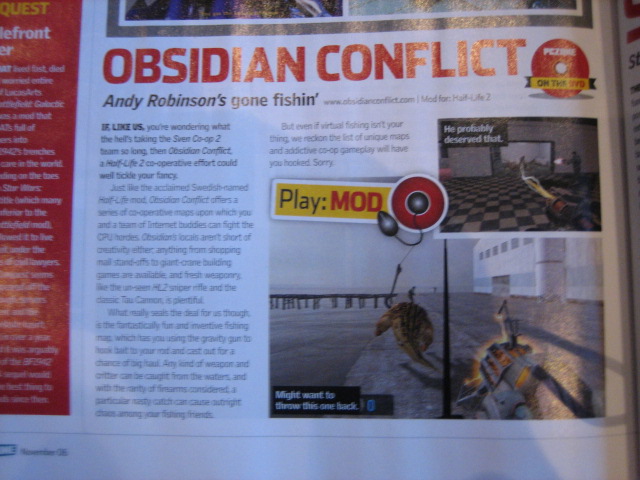 Maybe some sort of Media Coverage header?
They are from the site, _sized.jpg are the smaller thumbnail format of the images uploaded.